read all Restaurant Reviews
Ugie House Hotel, Church Road, Keith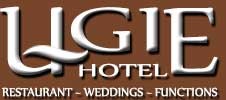 We were two for supper, Karen and I, and were immediately made to feel extremely welcome by mine hosts Mhorag, Robert and their waiting staff. We enjoyed the soft and sumptuous atmosphere that the bar offers and, after requesting our meal, found ourselves seated in the clean-lined, bright and immaculate restaurant, looking out at the trees and shrubbery of the park.
For starters we chose the Haggis Spring Rolls with Sweet Chilli Dip and the Trio of Garlic Breads – these were a great way to start the meal, especially as the Haggis consisted of the highland spiciness of Scotland, and the Trio was cleverly topped with mouth-watering Bacon & Cheese and fresh-flavoured Tomato & Mozzarella. The main courses were intelligently varied and offered the temptation of the great tastes only to be found in locally sourced produce, and in that regard we were certainly spoiled. All Ugie's fish comes from Portsoy, all fruit & veg is sourced from Moray, and all their meat comes from a butcher in the town.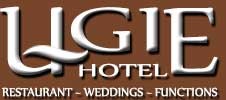 We chose Grilled Sea Bass and Chicken & Bacon Alfredo Pasta. We were amazed by the subtleties of taste explosions that were placed on the table. Karen believed her Sea Bass was of supreme delicacy and just melted in her mouth, complemented with the freshest of vegetables and creamy potato. Meanwhile I could not applaud the Alfredo Pasta enough – truth is that I did not think I would eat all that was placed in front of me, but the richness and creaminess of the mushroom sauce left me with no option but to enjoy every morsel.
There was a comprehensive selection of wines on the Wine List, an outstanding selection for all tastes. Karen enjoyed a crisp and pleasing glass of the house white, and as I was driving I stuck with a softie.
Were we looked after at the Ugie? Three friendly faces regularly appeared to ensure that our evening would pass without problem or worry, and that we would leave most happily. Our grateful thanks go to all the waiting staff for making the meal a memorable experience and one to recommend to family and friends.
Peter & Karen
Portknockie