read all General Interest
Peat-Reek and the Gaugers by Glynis Stainton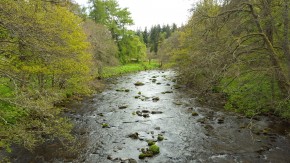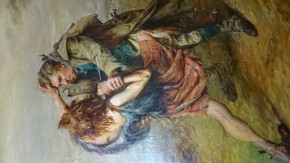 The Scottish whisky industry today is greatly respected with its lucrative amber nectar enjoyed by much of the world's population. No less importantly it is also a part of Scottish identity, heritage, tradition and culture. But at odds with its current high status, its roots are buried in much less auspicious circumstances.
It is widely believed that whisky owes its origins to Christian monks who turned to fermenting grain mash in places that lacked the climate for vineyards and grapes. After King Henry VIII of England dissolved their monasteries between 1536-1541, monks were left looking for new ways of making a living. This is thought to be the birth of the whisky industry.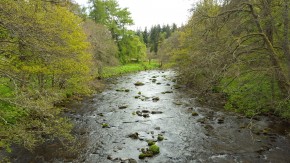 Notwithstanding this theory, it is also plausible that Scottish Highland farmers themselves might have discovered how to distil spirits from their surplus barley. With ample access to grain from the farmlands of Moray, an inexhaustible supply of pure water and plenty of peat for burning, everything conspired to make this inhospitable and wild Highland landscape the perfect location for making whisky. An entry from The Exchequer Rolls of 1494 provide early evidence of whisky production in Scotland showing that malt was sent "To Friar John Cor, by order of the king, to make aquavitae, enough to make about 500 bottles." The earliest reference found for a Scottish distillery is that of the Ferintosh distillery owned by Duncan Forbes of Culloden, mentioned in the Acts of the Scottish Parliament of 1690.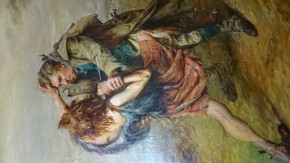 During the 18th Century the Highland peoples were faced with a terrible social upheaval that threatened their very existence. The old Clan system having been dismantled, Highlanders were being thrown off their farms and lands by ruthless landlords, with many facing starvation and deportation to the New World. Coupled with this was the raising of new taxes: After the Acts of Union between 1707-1725, which merged the Kingdoms of England and Scotland, taxes rose dramatically. The English malt tax of 1725 so threatened the legal production of whisky that the majority of Scottish stills were forced to carry on their trade under clandestine conditions. Doubtless those involved saw little or no benefit of paying to make their native tipple.
Wild and remote, The Cabrach was the area most infamous for illicit distilling. Located between Huntley and Glenlivet, close to Dufftown on the border between Moray and Aberdeenshire it has been suggested that in this area alone, around 400 private stills were operating in the early 19th century. Almost every property and inhabitant, including women and children, were involved in a huge black market economy: the illegal making and smuggling of whisky. The names of eighty people were reported to be engaged in illegal distilling in one year alone. To give an idea of the extent of the enterprise, it has been estimated that up to 200 ten gallon ankers (a kind of cask) per week left Glenlivet.
During the following years the excise tax on whisky continued to climb making it more and more difficult for legal distillers thus encouraging unlawful stills. The scene was now set for nothing less than war between the Government Excise Men and the Highlanders involved in the illicit whisky trade. The confrontation had all the hallmarks to be expected of a war: pitched battles, heroes, villains, trickery and secret convoys in the dead of night as each side sought to thwart the efforts of the other. Even now, we tend to perceive those involved in the making of the peet-reak (once a common name for whisky) as rascals and lovable rogues. Meanwhile the gaugers (a name by which Excisemen were commonly known), are thought of as instruments of the Government bent on catching and punishing those poor Highlanders trying to make a living. To avoid the Gaugers, wearing alien plaid and in the dead of night, Highlanders led their tough Shetland ponies carrying their precious cargo along narrow, heather-fringed tracks. One route ran between Speyside and Donside. It is a matter of record that in March 1824 at Inverurie, Gauger Macolm Gillespie and one assistant took on thirty smugglers from Glenlivet who were on their way to sell their whisky in Aberdeen. Malcolm Gillespie, who has entered history as King of the Gaugers, kept a detailed diary, which was posthumously-published. In it he wrote of his exploits of bravado every bit as colourful as that of his adversaries. In it he describes how he trained his bull terrier as follows:
"to seize the horses one by one, till they tumbling some, and others by dancing, in consequence of the pain occasioned by the hold the dog had of them by the nose, the Ankers (small whisky casks) were all thrown from their backs." An insight into the man's character is provided by journalist J Gordon Phillips who writes as follows: "Malcolm Gillespie cared neither for God or man, and he was said to be selfish and brutal with women, but he loved his dog passionately." Gillespie declared that in the service of the Revenue he received 42 wounds to his body and that during his 28 years of employment he had seized in excess of 20,000 gallons (91,000 litres) of spirit, 60,000 gallons (273,000 litres) of wash, 407 stills and 165 horses. His story is deserving of much greater detail than I can enter into here. However, it ended ignominiously when he was hanged for forgery on 16 November 1827. He is said to have been the last person to be hanged in the outdoor gallows in Aberdeen. Another famous exciseman was the Scottish Poet, Robert Burns who was appointed to the post of Excise Officer for Dundee in 1789. A promotion followed in 1792 to Dumfries Port Division, an appointment that carried a salary of £50 per annum. However, despite being financially sound for the first time, evidence suggests that Robert's heart was not in it, and that he probably empathised with the bootleg community. One of his poems/songs reinforces this view and captures the sympathies of the times: The Deil's Awa Wi' Th' Exciseman
Chorus The Deil's awa, the Deil's awa, The Deil's awa wi' th' Exciseman! He's danc'd awa, he's danc'd awa, He's danc'd awa wi' th' Exciseman!
The Deil cam fiddlin thro' the town, And danc'd awa wi' th' Exciseman! And ilka wife cries: -'Auld Mahoun, I wish ye luck o' the prize, man!
We'll mak our maut, and we'll brew our drink, We'll laugh, sing, and rejoice, man, And monie braw thanks to the meikle black Deil, That danc'd awa wi' th' Exciseman!
There's threesome reels, there's foursome reels, There's hornpipes and strathspeys, man, But the ae best dance ere cam to the land Was The Deil's Awa wi' th' Exciseman!' Violent and sometimes even armed confrontations between the two sides gradually became more widespread. Eventually, a small army of revenue men, sometimes backed by military forces, patrolled the glens, from their bases in the Highland towns. A famous incident which has been well documented is known as "Battle of The Cabrach".
Battle of The Cabrach.
On 6th Feb 1827, Donald McKenzie, Leading Exciseman based in Dufftown, and Peter McIntyre, Captain of the revenue cutter Atlanta, anchored near Aberdeen, set out for The Cabrach. Leading an assortment of revenue men from both boat and town, they were armed with muskets and cutlasses. Ignoring several warnings of trouble ahead, heedless they continued marching deeper into The Cabrach. Then suddenly, without warning local men including James and William Gordon from Mortlach near Dufftown launched an attack from their hiding place within the woods firing a volley of shots at the Excisemen. During the ensuing exchange of musket fire Captain Peter McIntyre was hit, after which the revenue-men took shelter in a local farmhouse. But the Highlanders refused to give up and pursued them, threatening to burn the excisemen alive inside if they did not leave. Thankfully, this threat was not carried out and the revenue men eventually were able to escape, returning to Dufftown where they raised an alert. The perpetrators of the attack were identified and tried in the High Court in Edinburgh in July 1827. The Gordons were ordered to be transported for life while two others who had failed to appear, were pronounced outlaws.
Meanwhile, fines, penalties and punishments continued to increase, initially often settled by those customers who bought the whisky. Indeed, George IV, on a state visit to Scotland, specifically asked for a dram of illicit Glenlivet. In 1812 special excise courts were set up in Inverness, Cromarty and Tain where fines of £20 were imposed. In those days this was a fantastic amount of money for an ordinary person to pay. But in 1822 the stakes were raised by the Illicit Distillation (Scotland) Act which stepped up hostilities and penalties against those involved with producing and distribution illicit whisky. Fines up to £100 were imposed and the Gaugers gained sweeping new powers. With the licencing of legal stills, the situation gradually began to calm down, though initially tensions between legal and illegal producers were high. However, records from the Elgin Sherriff court shows that in 1845 a John Cameron from Knockandhu was fined £100 or a six-month term in Elgin gaol for the illegal production of whisky.
In 1823 the first licence to legally produce whisky was granted to George Smith, who had hitherto produced it illegally. This proved very unpopular with the other well-established and wealthy distillers operating illegally at the time, with threats being made against it. Notwithstanding this in 1824 the first of The Glenlivet distilleries was established at Upper Drumin. Today The Glenlivet is the best selling malt whisky in America, and the fourth best selling in the UK with a 7% market share. The Glenlivet is the world's second best selling single malt whisky, and current global sales total six million bottles per annum. Behind the distillery are a variety of delightful walks, several of which are claimed to be old smugglers' routes.
Hanging in The Glenlivet Visitor's Centre is a vivid portrayal of the struggle between the Highlanders and Revenue men. Painted in oil on canvas by British artist John Pettie (1839-1893), it is dated 1868 and titled "Tussle with a Highland Smuggler".
Today, the excise duties and tax on whisky in the UK is still very high. On a 70cl bottle of whisky UK citizens pay £7.74 in excise duty alone. When tax is taken into consideration the price of a bottle of Scotch in the UK is made up of 77% tax. This means that the cost of a single 25ml dram includes 28p in taxes in the UK. In the EU the average would be 16p.
My thanks goes to local author, Malcolm Archibald of Plusgarden for his entertaining and informative book, "Whisky Wars, Riots and Murder."