read all General Interest
Mountain Minister Pt 3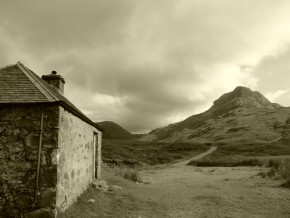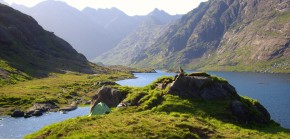 The first weekend in June was always earmarked by my two friends and me for our annual camping trip to the West Coast. For about ten years this continued, largely comprising four days of fishing, open fires, watching the sun set at gone 1100pm and generally going hungry. One of the best things about those trips was we would dispose of everything and anything that indicated the time. What a difference that made! You don't realise how governed by the clock we all are until there are no clocks to govern. Feeling hungry? Then eat. It doesn't matter if it's not 'lunch time' or you're having breakfast in the afternoon. Not tired? Stay up and fish all night; why not? After two or three days we would occasionally sneak-a-peak at a watch to see how far out we were from guessing the real time, and often we were hours out. We had no idea if it was ten in the morning or two in the afternoon.
That sense of freedom from time-constraints was such a liberating and important part of those camping trips. Needless to say, some sixteen years have passed since those first camping expeditions, and although those short four-day periods were 'timeless,' and the land and the sea still look very much the same, the sixteen years haven't been so 'timeless' in the aging process! The skin that was once smooth is now a lot more rugged, and don't get me started on the 'crow's feet' round my eyes: we're not talking about the odd crow momentarily landing, we're talking about troop of crows who moved in to stay and who seem to spend their time ceilidh dancing round my eyes!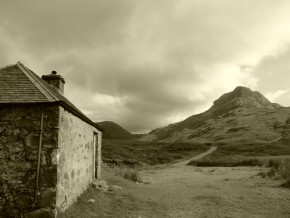 Time is a funny thing. I sometimes find old books on the Scottish hills (by old, I mean from the 60's and 70's – hey, it's all relative!), and what amazes me is the hills haven't changed one iota. The fashions of the climbers have; there was a time it seems, when 'shorts' lived up to their name and 'hair-styles' … well … didn't! Nevertheless, the hills, the cliffs, the views, the rivers; they have hardly altered, and in some cases for hundreds or even thousands of years. The long dark corridor that formed the scenery for the backdrop of the Glencoe Massacre all the way back in 1692 is the same backdrop that tourists flock to today to take selfies. Very little has changed. The hills that Bonnie Prince Charlie clambered over in his escape to France; the wonderful panorama of the Loch Quoich Munros, the formidable Glenshiel ridges and the wilderness of Moidart – they all remain, weathered but beautiful, unlike poor Charles Stuart who died back in 1788 and I suspect is no longer so 'bonnie.'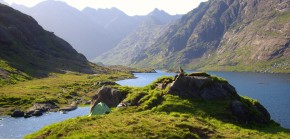 This is one aspect of the hills that I just find fascinating. Every time I walk through a valley or glen or sit on a summit or cross a ridge, I think 'who else has been here? Who else has seen this very view? What other guests has this hill entertained over the years?' These thoughts struck home with some power on one particular walk into the Grey Corries – that superb ring of quartzite hills that dominate the view on the road between Spean Bridge and Roy Bridge. It's a long walk this one, and it incorporates four Munros all of which are very hard underfoot. The route I took in was to follow the Lairig Leacach which eventually reaches a bothy. I say 'eventually' because it seemed like we were never going to get there. We kept saying 'surely it's round this corner' only to be disappointed on numerous occasions. To say that the ascent only starts after reaching the bothy will go some way to relaying how we felt when we finally reached it.
It was while we stopped for a quick rest and adjusted our clothing for the ensuing climb that I started reading some of the names that had been carved into the bothy door over the years. Not surprisingly, they were nearly all good Scottish sounding names. There were one group of names that grabbed my attention above all the others: Simon McRae, Donald Cameron, Hugh McLellan, and Angus Cameron. It wasn't the names per se that drew me to them but the date that accompanied their carved graffiti, which was the year 1937. To a lot of people, that date may not have triggered anything of interest to them, but to a World War II buff like me, this struck me with some poignancy. I can't say for sure what happened to these four gentleman but if they were fit enough to be walking in the hills and young enough to still be interested in scrawling their names into wood with a knife, chances are they may have fought (and died?) in combat during World War II. With a good eight hours of walking ahead of me that day, I had ample time to reflect (and concoct) a hundred and one scenarios of what happened to these young Scottish hill enthusiasts.
With the passage of time, so many things change in life: wars come and go, political parties rise and fall, generations are born and generations die, but the hills far outlive most things. In fact, the saying 'as old as the hills' which refers to something being exceedingly old, most likely has its origins from the biblical book of Job. In this book, Job is being quizzed by an unsympathetic friend with regards to his suffering, and he says: "Are you the first man who was born? Or were you brought forth before the hills?" Job 15:7 We all know that the hills were there long before we were born and they'll be there long after we've gone; they stand as something abiding. The day will come when I will be no more, just as those four gentleman who carved their names on the bothy door have probably passed away either in the war or by some other means. And poor old Job has long since departed from us … but is he 'poor old Job?' Job didn't seem to think so! He knew that however old the hills were, the Lord who created them was from everlasting to everlasting. Therefore he stated with confidence: "But as for me, I know that my Redeemer lives, and he will stand upon the earth at last. And after my body has decayed, yet in my body I will see God! I will see him for myself. Yes, I will see him with my own eyes. I am overwhelmed at the thought!" Job 19 I too, look forward to that day, when I'll no longer need a watch ever again, for I'll have all eternity to rest in the presence of the Lord.
Rev Jon Mackenzie