A Walk of Art: Visionary Shoes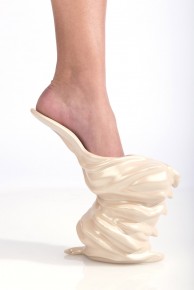 The exhibition "A Walk of Art: Visionary Shoes' explores whether a shoe that can't necessarily be walked on can still be called a shoe, If it can't, is it art?
The exhibition showcases 60 designs by students and alumni of Bezalel Academy of Arts and Design, featuring some by Kobe Levi whose work has been worn by the famous Lady GaGa.
These shoes push the boundaries of comfort and balance, but they have created beautiful pieces of art that can be worn and even be walked in! The shoes are created by taking contemporary designs and non-traditional materials such as metal, porcelain, wood and even glass. The designer, Sigalit Landau has even suspended one pair of shoes in the Dead Sea until they were encrusted in salt crystals.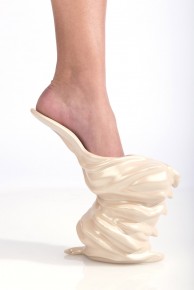 Looking at all these complex and unusual designs shows that shoes can be considered as works of art and displayed for people to admire, as well as fulfilling their traditional function.
Can you imagine having a pair of designer shoes as a decorative piece in your home? Whatever your viewpoint, modern shoe designers have certainly narrowed the gap between art and functionality.
Designs shown: Barococo by Nadin Ram; Hybird Shoes by Aya Feldman; Lip Gloss Shoe by Gal Souva; Jenga by Gal Souva