World Full of Colour - Shona McInnes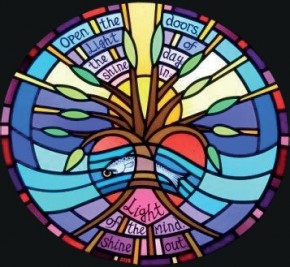 Born in the Orkney Islands, Shona went on to study at The Glasgow School of Art, specialising in stained glass design. After graduating in 1983 she began working for a stained glass company in Yorkshire. "It was a steep learning curve" she laughs "having had the luxury as a student of experimenting with ideas, materials and taking as long as you liked to complete a project, I now had to work to a client's brief and be focussed on deadlines and high quality craftsmanship."
Two years later she returned to Glasgow to set up her own studio and became a part time lecturer at the art school, teaching stained glass skills to a whole new generation of students for several years before moving to the north east. "One of the great bonuses of being an artist is that you can work anywhere and it's relatively easy to relocate. As long as I have a sturdy bench and decent light source I can work anywhere."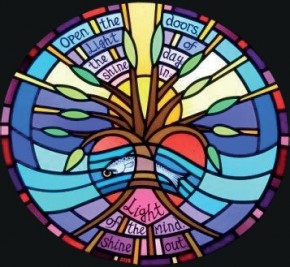 In her previous studio near Inverurie, Shona completed many local commissions, including the acclaimed Oil Industry Chapel window in St. Nicholas Kirk, which won a Saltire Award for Arts in Architecture.
"In 2002 we moved south again to be near family in Yorkshire but I always knew we would return to the north east some day", says Shona. In 2014 she was asked to create a feature window for the new Sandpiper Sanctuary at Aberdeen Royal Infirmary.
"My brief was to design a 'fish eye' view the landscape within the catchment area of the hospital. It was a wonderful project to work on and ideas came quickly as I was so familiar with the region. When I returned to the area to do further research I felt instantly drawn to settle here again and within two years we returned."
"This time around we chose to be based in Morayshire, but everything feels familiar: the vast skies, the quality of light and the amazing colours and contrast in the terrain. Moorland, farmland, forest and shore - where else could you have so many different landscapes all within half an hour of your studio?"
Shona draws a lot of her inspiration from the landscape, a continual thread running through her work and evident in many local commissions. Windows in both Rothes Kirk and Knockando Parish Church feature distant hills, forests and swathes of barley. In one window a curlews tops a moorland dyke, in another an otter watches for salmon in the Spey.
Meanwhile, in the Glenlivet Distillery Visitor Centre a contemporary backlit panel suggests how the whisky is born from a rough landscape of peaty moorland, ancient rock and tumbling streams.
The latter project is not unusual as Shona frequently makes stained glass for public buildings, explaining... "It's a common misconception that stained glass is purely an ecclesiastical art but actually it's an architectural art which can be used to great effect in many different kinds of settings. The ever changing play of coloured light can create a special ambience in any space, whether it's a hospital chapel, corporate entrance foyer or mezzanine bedroom in a steading conversion. People are instantly uplifted when light streams into a room on a sunny day. Combine that light with colour and it's so beautiful when a room is filled with a kaleidescope of ever changing coloured reflections."
Mankind's relationship with coloured light goes back over a thousand years. The oldest preserved stained glass windows are in Augsburg Cathedral in Germany but it was through the birth of Gothic architecture in the 12th century that stained glass really developed. A new way of building churches meant the roof weight was carried on exterior buttresses, allowing larger and taller window apertures to be introduced into walls without compromising their strength. Through the subsequent centuries both the design of stained glass windows and their content has evolved as a direct result of changes in architecture and glass technology. However, the one thing that remained constant is that stained glass was there to tell a story: be the viewer rich or poor, educated or illiterate, the appeal of stained glass was universal and the story of the scriptures was told in a visual way which was accessible to all.
The process of making a stained glass window remains virtually unchanged since medieval times. The glass cutting, leading and painted detail is still done by hand. However, advances in specialist tools have made a difference: where a 15th century glazier would have used a diamond tipped cutter, today's artist uses a tungsten carbide wheel. According to Shona, a frequent misunderstanding is that stained glass artists actually 'colour' their own glass, which has never been the case.
"The confusion comes from the term 'silver staining' where we can apply silver nitrate to a glass shape and fire it in a kiln, which leaves a yellow tint on it's surface. However, the actual coloured sheets of glass we cut our shapes from are made by skilled glassblowers. Colour is created by adding metallic salts to molten glass in a furnace. For example, cobalt makes blue glass, manganese makes purple. It's a complex and controlled process and many companies have secret 'recipes' for colours going back generations. There are infinite variations in the tones and textures of glass available, I particularly like Tatra glass from Poland - it's full of little bubbles which sparkle in bright light".
Shona says she has seen a change in the direction her work has taken over the last thirty years. Initially, nearly all her projects were for churches but she points out that in latter years there has been a distinct shift towards creating panels for individual homes and other buildings.
"This is due in part to the ongoing cost of maintaining church buildings, many of which are very old. Understandably, preserving the fabric of the building must be a priority before the installation of new stained glass, so new windows are mainly commissioned when a specific bequest is left for this purpose, often to mark a particular event or to celebrate someone's life or achievements.
On the domestic front I have seen a revival of interest in glass restoration which I believe is linked to an increase in television programs devoted to building design and restoration. Presenters like architect George Clark enthuse about bespoke craftsmanship and period details, which in turn leads to home owners considering reinstating missing or damaged architectural features like stained glass.
Likewise, Grand Designs shows how traditional craftsmanship can be successfully integrated into a contemporary new build: stained glass in an atrium can fill a basement with a wash of coloured light, whilst an unusual glass screen can define different zones in an open plan living area."
Examples of Shona's work can be seen on her website at www.leadlinestudio.com