read all General Interest
Mountain Minister - part 2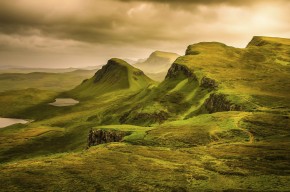 When it comes to the Scottish hills, you may think of 'wilderness.' For me as someone who grew up in the flat county of Essex, with its large and densely populated towns, moving to the Highlands was a revelation and a joy. Wild, rugged hills, with peak after peak disappearing into the mist as far as the eye can see, huge sweeping corries like those found at Lochnagar or Seana Bhraigh, or massive geological splits in the side of mountains such as the traverse up to Sgurr na Ciche or the gapping breach in the ridge of Beinn Alligin, with the atmosphere of being in or near 'Giant Country!'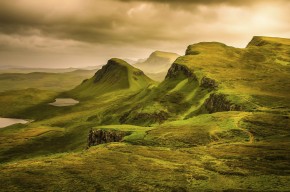 I once climbed a ring of five Munros on a solo overnight trek beginning with An Socach in the Forrest of Atholl near Braemar, and finishing on the fifth hill of Carn Bhac. I starting walking about 10:00 in the morning and returned back to the car about 16:30 the following day; it was one of those rare occasions where I had no time restraints and no meetings to get back to. I had time to both wander and wonder and I was determined to use it well.
The thing that was particularly lovely about that trip was that from leaving the car to stumbling back to it some 30 hours later, I didn't meet or see a single soul! You see, 'wildness' for me, is heightened somehow by solitary exploration. When was the last time you didn't speak out loud for thirty hours? When did you last do nothing but listen for a whole day? The sounds you hear in the wild lonely places! Wind, both whispering and roaring. Water, cascading at times and almost imperceptibly flowing at others. The really unmistakable crunch of a heavy boot into virgin snow cracking through a thin veil of ice!
Nature is always making its own noises, speaking its own language, somehow lost in translation by our inability to hear. Most 'Munro baggers,' if they're honest, don't even appreciate the wild as much as we would like. Far too often, the day is comprised of a long drive with friends, banter on the move, and a deadline to reach the summit with a quick march back down, in order to get home for some reason or another. This is when the 'long walk' or the overnighter comes into its own, because both indicate the prospect of real wilderness.
No-one who has climbed the two Munros next to the Glenshee Ski Centre (a half hour trek from car to summit on rough bulldozed tracks) will be waxing lyrical about the Scottish wilderness! On the other hand, if you manage to bump into someone returning from a few days in the aptly named 'Rough Bounds of Knoydart,' you'll be guaranteed to meet a poet, for no-one who has trod those ancient paths can possibly come away unimpressed by its wild and rugged beauty. There's a clue you're entering into somewhere special as soon as you leave the car because there's a sign which reads: 'TAKE CARE – You are entering remote, sparsely-populated, potentially dangerous mountain country.'
Knoydart, with the mainland's most Westerly Munro, Ladhar Bheinn (pronounced Larven), is one of the last bastions of prime wilderness left in Scotland. To drive home the point, there is no road to get there, it's either a looong walk in or a boat ride from Mallaig to Inverie, but boy is it wild! There is an almost prehistoric feel to the place and weather to match. In the overnight trip I took to climb all three of Knoydart's Munros, within a twenty four hour period, I walked in sun, mist, cloud, rain, hail and snow, and this was in June!
Of course, one of the many benefits of spending time out in the wild, is the increased chance of glimpsing some spectacular wildlife, and Scotland has its fair share. There are your common beasts, your toads and lizards, your ptarmigans and grouse, hares and sheep, but every now and again you may be blessed to see some of the more secretive creatures. I once saw a huge black snake sunning itself on a roasting hot path in the Cairngorms, another time I saw wild horses on the slopes of Sgurr a'Chaorachain (wild in the sense of freeroaming, unaccompanied and with no man-made attachments).
The animal I really love to see on the hill however, is the majestic Scottish stag. Their speed and roar, those magnificent antlers, they're just such a frequent emblem of our wild places. On a recent walk around Loch an Daimh, I passed the summit of Stuchd an Lochain and before reaching Meall an Odhar I dropped down some steep slopes toward the Loch.
As I descended with some care on the upper reaches, I watched a number of red deer bounding over the peaty tussocks spooked by my strange presence. A good way further down, and, much to my surprise, I nearly stood on a recently born fawn, that was nestled and lying perfectly still in the long grass. As soon as I saw it I moved away (you should never touch a deer), but from a safe distance and with a powerful camera lens, I couldn't help take a moment to stare and capture at least one shot of this rare and wild sight.
With no-one to talk to or share this wonderful moment with, I continued on with a beaming smile, thanking God for a glorious experience. Knowing that deer are mentioned in the Bible, I later did a little investigation. Sure enough, the Psalmist captured my special moment to perfection. Psalm 29:9 says, The voice of the Lord makes the deer give birth and strips the forests bare, and in his temple all cry, "Glory!" The wilderness is an important theme in Scripture, the nation of Israel wandered in it for forty years and it became a place of angst for them. Centuries later Jesus would find himself in the wilderness for forty days being tempted by the devil but he overcame, and often withdrew to solitary places to spend time with the Father. For the nation of Israel it became a place of death, but for Jesus it proved to be a place of abundant life.
Another Psalm says: As a deer pants for flowing streams, so pants my soul for you, O God. My soul thirsts for God, for the living God. So while my long legs can carry me, I'll be heading out to the wilderness and among the deer, for it may be wild, but to me it's beautiful and full of life, and there my soul is refreshed by my Creator and his creation.
by Rev Dr Jon Mackenzie