Hunter & The Bear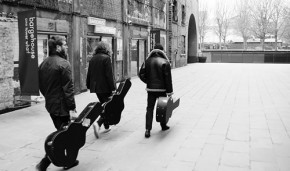 School friends, Will and Jimmy started playing music together in University playing pubs and clubs in Newcastle. They spent this summer writing in the Highlands of Scotland and moved to London in September to give music a go professionally. They are currently building a website which should be live soon, along with Twitter and Youtube channels. For now, they are going 'old school' and playing as many live shows as they can.
Folk-rock four-piece, Hunter and The Bear made an eagerly awaited return to The Drouthy Cobbler earlier this year as part of a national headline tour. Having earned their stripes on stage through extensive touring in 2014, and 2015, including supporting Eric Clapton and performing at T in The Park, Cornbury, Belladrum and Larmer Tree, the band are excited to be setting off on a stretch of dates that will see them performing up and down Britain.
Inspired by artists such as The Band, Dire Straits and Bruce Springsteen, Will & Jimmy started to write and perform as a duo with Jimmy playing lead guitar, mandolin and backing vocal whilst beside him Will on the rhythm guitar and singing lead vocals. Having started the band in Newcastle, where they were studying at University, they moved to London in 2012 to bring their own brand of power folk to the huddled masses. Gareth Thompson, drums and Chris Clark, bass, completed the line up in 2014, to bring you a live set up you don't want to miss. 'Hunter and the Bear has reached a new echelon with its latest release. The band is vulnerable yet strong. The act has upped its ante but Hunter and the Bear is still rising. The group's potential is unlimited, but the future is now for the next significant band to come out of the UK.' Ed Condran Future Moray dates will be shown when available on the Drouthy Cobblers website: www.thedrouthycobbler.co.uk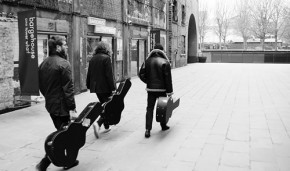 Debut EP "Dusty Road" (featuring favourites "Forest On The Hill" and "Taliesin") earned high praise and the follow-up EP "Before I Came Home" was preceded by single "Pick Me Up." In 2015, the band played Reading and Leeds Festivals and new EP entitled "Wildfire" was released in the summer, containing standout tracks "Burn It Up" and "Since September." Now on their second headline Uk tour.
With support from The Black Feathers
Will - Rhythm Guitar, Vocals • Jimmy - Lead Guitar, Mandolin, Vocals Chris - Bass, Vocals • Gareth - Drums, Vocals